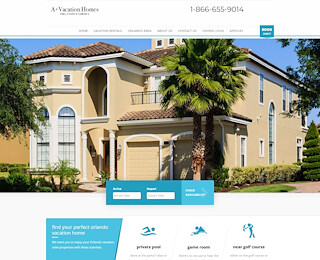 Some of the best luxury vacation homes Florida are here in A+ Vacation Homes. Our luxury properties include seven-bedroom homes with a swimming pool, barbecue facility, fully-equipped kitchen, and a game room. Many of them are in gated communities and close to a club house with facilities you can use.
There are a lot more things to see and do in central Florida than just Disney World. Yes, the big mouse is big business, and he employs a ton of people, but you should take a good look at all the other things there are to see and do in this part of Florida. You will find a vast number of wonderful natural places and many world-class manmade attractions, as well. Stroll along a sugary white beach or wander the perimeter of a fragrant orange grove. By night, Florida is blanketed by a sea of stars; by day, you may swim with dolphins or explore Florida's rich automotive racing industry. Hollywood is as close as Universal Studios, and Ripley's Believe It or Not museum is always good for an astonishing tour.
Quite possibly the biggest part of vacation costs is associated with room accommodations. If you are traveling with a family, you may expect to shell out major dollars for a nice place to stay. A day at Disney World is already going to cost big bucks, so if we told you how to shave your expenses, would you be interested? We think you will.
We are A+ Vacation Homes and our business is providing discriminating travelers with excellent accommodations in and around the greater Kissimmee-Orlando area. If you choose to stay in one of our luxury vacation homes in Florida, you will spare yourself a big part of your trip expense. At A+ we offer a splendid array of everything from cozy condos to seven-bedroom luxury vacation homes. Florida is a wonderful place to visit any time of the year. The weather here is almost always warm and mild, and the clean salt air is a joy to breathe. If you are coming to Florida to spend time at Disney World, you will especially appreciate having a private home to come home to at the end of the day. After you have spent a day sharing the Magic Kingdom with several thousand excited children, the last thing you want is to spend the night in the same hotel as hundreds of them. Go ahead and enjoy the myriad things there are to do and see in central Florida, then come home to the peace and quiet of one of our A+ luxury vacation homes in Florida. Each of our lovely homes comes with satellite television and high-speed internet access. Our homes have private heated swimming pools, Jacuzzi tubs and/or hot tubs. Many of our luxury vacation homes in Florida comes with an elaborate game room that is outfitted with all sorts of games to amuse your family after hours. For additional information, please call A+ Vacation Homes at 1-866-655-9014 or 321-766-6455.
Luxury Vacation Homes Florida