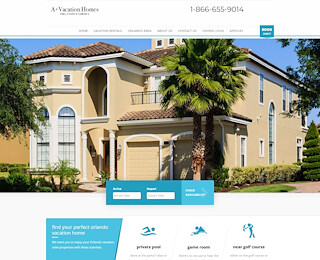 If you are traveling with your entire family, staying in an Orlando rental home is more economical than staying in hotel. A+ Vacation Homes can help you find the best holiday rental home that is just right for your needs and budget, as well as for your purpose for visiting Orlando. It's easy to book a vacation home online, right in this website.
Vacation homes are becoming more popular in Orlando, especially with those who are looking for more value for their money and more privacy and convenience for their family. An Orlando rental home can save you money whenever you want to spend a holiday in Disney World. It can also give you the security and comfort that you need because each of your family members can have their own bedroom. You can also reduce your costs and use facilities like the swimming pool or game room any time.
Kissimmee is one of the places in Orlando where there are plenty of rental homes. Its proximity to Disney is one of the reasons why you should stay there. It will usually take a maximum of 15 minutes to reach Disney World when you stay at an Orlando vacation rental home in Kissimmee. The homes can have three to seven bedrooms to match the number of your family members. A seven bedroom home can even sleep up to 16 persons. You can also reduce your food and restaurant bills by eating in the comfort of your rental home. All rental homes have their own kitchen where you can prepare, cook, and serve meals to your family.
Just by looking at those benefits, it is easy to tell why an Orlando rental home is more economical for your family Disney holiday than staying at a hotel. If you are interested to rent an Orlando home on your next trip, consider getting in touch with us here at A+ Vacation Homes.  Call us toll-free at 1-866-655-9014 or directly at 321-766-6455 to get started. You may also reach us through this website. A+ Vacation Homes specializes in providing high-end vacation rentals and villas at value prices. Our homes are at least five minutes by car from Disney World. Use our website to select the vacation home where you want to stay, and we'll handle the rest.
Orlando Rental Home